Wetting & Dispersing Agent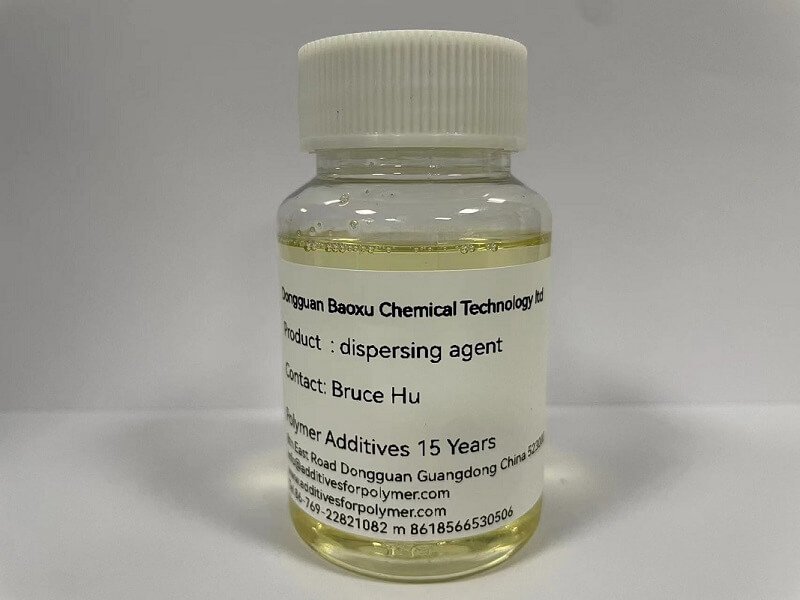 Introduction
Wetting and dispersing agent (dispersants) result in a fine and homogeneous distribution of solid particles in liquid media and ensure the long-term stability of systems. Dispersant agent stabilize pigments (inorganic, organic and also effect pigments) and fillers. The liquid phase can comprise water and the entire range of organic solvents of varying polarity.
Wetting agents are surface-active substances that improve the wetting of solids. Dispersing agents prevent particles from flocculating by various mechanisms (electrostatic effects, steric effects). Wetting and dispersing agent unite both mechanisms of action in one product, i.e. they are both wetting and stabilizing.
Our dispersing agents' control viscosity, prevent sedimentation, and enable high tinting strength in the final application including paints, coatings and ink formulations containing solutions for aqueous, solvent-based, high solids, 100% solids systems and universal pigment concentrates.
Wetting & dispersing agent Brochure Download
Dispersing agent brochure baoxu chemical
Key features and benefits
Shorter dispersion time
Enhanced gloss
Increased color-strength and hiding power
Reduced viscosities
Improved tone development
Prevention of flooding and floating
Avoidance of flocculation
Prevention of settling of pigments and fillers
Wetting & dispersing agent application
dispersing agents for paint
dispersing agents for ink
dispersing agents for coating
wetting & dispersing agent type by solvent
dispersing agents for water-based systems
dispersing agents for solvent-based systems
dispersing agents for solvent-free systems
wetting & dispersing agent type by dispersed substances
dispersing agents for organic pigment
dispersing agents for inorganic pigment
dispersing agents for carbon black
dispersing agents for filler
Baoxu chemical wetting & dispersing agent
Product Name
Analog to
Features
Product Type
active %
Chemical

composition

Solvent
BAOXU 6500A
BYK110
Excellent performance-to-price ratio, universal for inorganic and organic, excellent viscosity reduction for inorganic
Universal Dispersant
50%
Acidic group-containing copolymer solution
Isopropanol/Xylene
BAOXU 6050
Epoxy/acrylic resin system Highly pigmented carbon black reduces viscosity, disperses and develops blue phase
HighPigment Carbon Black Dispersant
50%
block copolymer
Xylene
BAOXU 6111
BYK111
Wetting and viscosity reduction of inorganic pigments and fillers in resin systems such as epoxy/unsaturated polyester
Solvent Free Wetting Dispersing agent
100%
Acidic group-containing copolymer solution
BAOXU 6402
EFKA4010
Inorganic viscosity reduction and organic dispersion of common coating resin systems to inhibit floating and blooming
Universal wetting dispersing agent
50%
Polyurethane Modified Polymer
Xylene
BAOXU 6110
BYK110
Dispersion of inorganic pigments and fillers in common coating resin systems, high-temperature resistance and no yellowing
Wetting dispersing agent
50%
Acidic group-containing copolymer solution
Triethylene glycol butyl ether/xylene
BAOXU 6110A
BYK-180
Dispersion of titanium dioxide, improvement of dry and wet board for white paste coloring
polymer dispersant
50%
Block Acrylate Polymer
Xylene
BAOXU 6104S
BYK104S
Common paint resin system application, can be added back and forth to improve floating color and fading
Anti-Flooding Dispersant
55%
Solution of LMW unsaturated carboxylic acid polymer and polysiloxane compound
Xylene/Propylene Glycol Methyl Ether Acetate
BAOXU 6161
BYK161
High-efficiency organic, inorganic, and carbon black general-purpose polymer additives
General-purpose polymer dispersant
50%
Modified Polyurethane Compounds
Xylene/Propylene Glycol Methyl Ether Acetate/Butyl Acetate
BAOXU 6161A
BYK163, EFKA4063
High-efficiency organic, inorganic, and carbon black general-purpose polymer additives
General-purpose polymer dispersant
40%
Modified Polyurethane Compounds
Xylene/Propylene Glycol Methyl Ether Acetate/Butyl Acetate
BAOXU 6164
Dispersion of macromolecular organic color pigments
Organic Pigment Polymer Dispersant
35%
Modified Polyurethane Compounds
Xylene/Propylene Glycol Methyl Ether Acetate/Butyl Acetate
BAOXU 6910
BYK9010
Inorganic fillers efficiently reduce viscosity and disperse
Inorganic filler wetting and dispersing agent
100%
Acidic group-containing copolymer solution
BAOXU 6500A
BYK110
Excellent performance-to-price ratio, universal for inorganic and organic, excellent viscosity reduction for inorganic
Universal Dispersant
50%
Acidic group-containing copolymer solution
Isopropanol/Xylene
BAOXU 6050
Epoxy/acrylic resin system Highly pigmented carbon black reduces viscosity, disperses and develops blue phase
High Pigment Carbon Black Dispersant
50%
block copolymer
Xylene
BAOXU 6111
BYK111
Wetting and viscosity reduction of inorganic pigments and fillers in resin systems such as epoxy/unsaturated polyester
Solvent Free Wetting and Dispersing agent
100%
Acidic group-containing copolymer solution
BAOXU 6402
EFKA4010
Inorganic viscosity reduction and organic dispersion of common coating resin systems to inhibit floating and blooming
Universal wetting and dispersing agent
50%
Polyurethane Modified Polymer
Xylene
BAOXU 6110
BYK110
Dispersion of inorganic pigments and fillers in common coating resin systems, high temperature resistance and no yellowing
Wetting and dispersing agent
50%
Acidic group-containing copolymer solution
Triethylene glycol butyl ether/xylene
BAOXU 6110A
BYK-180
Dispersion of titanium dioxide, improvement of dry and wet board for white paste coloring
polymer dispersant
50%
Block Acrylate Polymer
Xylene
BAOXU 6104S
BYK104S
Common paint resin system application, can be added back and forth to improve floating color and fading
Anti-Flooding Dispersant
55%
Solution of low MWunsaturated carboxylic acid polymer and polysiloxane
Xylene/Propylene Glycol Methyl Ether Acetate
BAOXU 6161
BYK161
High-efficiency organic, inorganic, carbon black general-purpose polymer agent
General-purpose polymer dispersant
50%
Modified Polyurethane Compounds
Xylene/Propylene Glycol Methyl Ether Acetate/Butyl Acetate
BAOXU 6161A
BYK163, EFKA4063
High-efficiency organic, inorganic, carbon black general-purpose polymer agent
General-purpose polymer dispersant
40%
Modified Polyurethane Compounds
Xylene/Propylene Glycol Methyl Ether Acetate/Butyl Acetate
BAOXU 6164
Dispersion of macro molecular organic color pigments
Organic Pigment Polymer Dispersant
35%
Modified Polyurethane Compounds
Xylene/Propylene Glycol Methyl Ether Acetate/Butyl Acetate
BAOXU 6910
BYK9010
Inorganic fillers efficiently reduce viscosity and disperse
Inorganic filler wetting dispersing agent
100%
Acidic group-containing copolymer solution
BAOXU 6910A
High-content inorganic filler system has strong viscosity reduction, dispersion,
Inorganic filler strong viscosity-reducing wetting and dispersing agent
100%
Acidic group-containing copolymer solution
BAOXU 6173
BYK163, EFKA4063
High-efficiency organic, inorganic, and carbon black general-purpose polymer additives, excellent stability, excellent color development effect of polyester system carbon black
Polymer wetting and dispersing agent
45%
Modified Polyurethane Compounds
Butyl acetate
BAOXU 6174
BYK163, EFKA4063
High-efficiency organic, inorganic, and carbon black general-purpose polymer additives with excellent stability
Polymer wetting and dispersing agent
40%
Modified Polyurethane Compounds
Xylene/Propylene Glycol Methyl Ether Acetate/Butyl Acetate
BAOXU 6175
Acrylic resin automotive refinish paint blue shade black color paste dispersant
Blue phase black dispersant for automotive refinish paint
50%
Modified Polyurethane Compounds
Propylene glycol methyl ether acetate/NMP
BAOXU 6176
Acrylic resin system 179 red and other organic pigment dispersion
Automotive refinish paint dispersant
50%
block copolymer
Xylene
BAOXU 6182
Resin-free colorant dispersant, also suitable for dispersing inorganic, organic and carbon black in organic resin systems
Resin-free color dispersant
50%
Modified Polyurethane Compounds
Xylene/Propylene Glycol Methyl Ether Acetate/Butyl Acetate
BAOXU 6200
Highly pigmented carbon black such as Raven5000 is dispersed for automotive refinish paint, with excellent blackness blue phase
Oil-water universal dispersant
100%
block copolymer
BAOXU 6200C
Lubrizol

20000

For highly pigmented carbon black dispersion
Universal Dispersant
100%
block copolymer
BAOXU 6530
Excellent stability for inorganic pigment dispersion
Controlled Polymer Dispersant
80%
Block Acrylate Polymer
Triethylene glycol butyl ether
BAOXU 6540
For carbon black and organic pigment dispersion, excellent stability
Controlled Polymer Dispersant
80%
Block Acrylate Polymer
Triethylene glycol butyl ether
BAOXU 6040
Lubrizol 32500
For the dispersion of inorganic, organic and carbon black pigments, excellent stability
hyper dispersant
40%
Modified Polyester Polymer
Butyl acetate
BAOXU 6976
BYK9076
Polyol colorant for stable polyurethane, PVC applications, for inorganic, organic, carbon black dispersion
Wetting dispersing agent
70%
Alkyl ammonium salts of HMW copolymers
Xylene
BAOXU 6700
For the dispersion of inorganic fillers, it has good anti-sedimentation performance, and can also be used for the dispersion of matte powders in alkyd PU systems
Wetting dispersing agent
100%
Acidic group-containing copolymer solution
BAOXU 6701
Wetting and dispersing for PE primer, preventing greening and effectively preventing sedimentation
Anti-sedimentation anti-greening dispersant
100%
Acidic group-containing copolymer solution
BAOXU 6710
For the wetting and dispersion of inorganic fillers, effectively prevent the system from settling
Anti-sedimentation dispersant
100%
Acidic group-containing copolymer solution
BAOXU 6501
Wetting and dispersing of high filler system for polyether polyol, effectively reducing viscosity, especially suitable for two-component silicon PU track
Silicone PU runway dispersant
100%
Acidic group-containing copolymer solution
BAOXU 6501A
Wetting and dispersing of high filler system for polyether polyol, effectively reducing viscosity, especially suitable for one-component silicon PU track
Silicone PU runway dispersant
100%
Acidic group-containing copolymer solution
BAOXU 6501B
Focus on the dispersion of inorganic fillers and titanium dioxide, emphasizing cost performance
Titanium dioxide inorganic dispersant
50%
Acidic group-containing copolymer solution
Xylene
BAOXU 6502
Dispersion for matte powder
Special wetting and dispersing agent for matte powder
100%
Acidic group-containing copolymer solution
BAOXU 6810
For epoxy resin system, inorganic and organic pigment dispersion, excellent stability
polymer dispersant
70%
High-content copolymer solution
Xylene
BAOXU 6820
BYK2009
Dispersion for matte powder
Special dispersant for matte powder
50%
Block Acrylate Polymer
Xylene/Propylene Glycol Methyl Ether Acetate
BAOXU 6830
For the dispersion of carbon black and carbon nanotubes, it can be used in NMP solvent system.
Carbon Nanotube Dispersant
80%
block copolymer
NMP
BAOXU 6840
For the dispersion of common UV system colorants, the balance between viscosity reduction and stability
Block Copolymerized Polymer Dispersant
45%
Solutions of High Molecular Weight Copolymers
DBE
BAOXU 6503
Common UV system with high filler system wetting, strong viscosity reduction characteristics anti-sedimentation stability
UV primer dispersant
100%
Acidic group-containing copolymer solution
BAOXU 6111A
BYK111
Dispersion of inorganic pigments such as titanium dioxide in the UV system
UV topcoat dispersant
100%
Acidic group-containing copolymer solution
BAOXU 6240
For the dispersion of water-based color paste system with alcohol ether resistance requirements
Water oil universal polyurethane dispersant
100%
High Molecular Weight Polyurethane Solution
BAOXU6070
BYK190
Dispersion of inorganic, organic and carbon black universal color pastes, wide application range, general-purpose dispersant
Water-based polymer dispersant
45%
block copolymer
water
BAOXU6071
TEGO755W
Dispersion of inorganic, organic and carbon black universal color pastes, wide application range, general-purpose dispersant
Water-based polymer dispersant
40%
Block Acrylate Polymer
Water/Triethylene Glycol Butyl Ether
BAOXU6072
Cytec 6208
Dispersion of inorganic, organic and carbon black universal colorants, wide application, excellent water resistance
Water-based polymer dispersant
60%
Modified Block Polymer Solution
Triethylene glycol butyl ether
BAOXU 6073
For the dispersion of inorganic fillers and organic pigments, no reactivity with zinc powder
Special dispersant for zinc-rich primer
50%
Block Acrylate Polymer
Triethylene glycol butyl ether
BAOXU 6090
For organic pigments, carbon black dispersion
Water-based polymer dispersant
45%
Modified Polyurethane Compounds
Water/Triethylene Glycol Butyl Ether
BAOXU6190A
Dispersion of inorganic, organic and carbon black universal colorants, wide application, excellent alkali resistance
Water-based polymer dispersant
50%
block copolymer
water
BAOXU6210
For the dispersion of inorganic pigments and fillers, excellent dispersion stability for titanium dioxide
Water-based wetting and dispersing agent
50%
Acidic group-containing copolymer solution
water
BAOXU6270A
For the dispersion of organic, inorganic, pigments and fillers, low foaming performance, excellent stability for carbon black dispersion
Water-based wetting and dispersing agent
80%
block copolymer
water
BAOXU6272
For the dispersion of organic and inorganic pigments and fillers, carbon black, the prepared color paste is not easy to float and fade
Water-based wetting and dispersing agent
80%
block copolymer
water
Baoxu chemical wetting & dispersing agent selection guide
Wetting & dispersing aegnt for industrial coating
application system
wetting & dispersing agent
Industrial Coatings
Solvent

type

two-component polyurethane
6500A/6402/6501/6110/6161A/

6174/6050/6104S

two-component

epoxy

6110/6402/6500A/6810/6173/

6174/6104S/6161A

thermoplastic

acrylic

6161A/6050/6040/6200C/

6500A/6110/6104S

High-temperature

paint

6173/6040/6110/6050/6161A/

6174/6104S

Resin-free color paste
6040/6110/6182
UV curing system
6503/6111A/6840
Viscosity reduction high filler
6500A/6111/6402
matte paste
6820/6502/6700
Industrial Coatings
Water

based

Non-reactive self-drying emulsion
6070/6071/6272
two-component polyurethane
6070/6071/6210/6272
two-component epoxy
6070/6071/6072/6210/6272
water-soluble resin
6090/6240/6190A/6210/6272
High Concentration Color Paste
6070/6071/6240/6272/6270A/

6210/6190A

Viscosity reduction with high filler
6220
wetting & dispersing agent for car paint, floor coating
application system
wetting & dispersing agent
car paint
Solvent type
primer
6402/6500A
1K color paint
6110A/6110/6500B/6164/6161A6175/6176/6040/6050
2K Topcoat
6200/6110A/616A/6164/6040
Water-based
primer
6220/6070/6210
1K color paint
6210/6240/6071/6270A/6272

6070

2K Topcoat
6070/6071/6210/6272/6240
Heavy duty coating
Solvent/Solvent

Free Coatings

6402/6060/6111/6161A/6200C
                   Water-based
6072/6071/6073/6240/6190A

6272/6210/6220

floor coating
Solvent type
epoxy floor
6110/6111/6500A/6810/6173

6174/6104S

Methacrylate

Flooring

6110/6503/6840/6040/6182

6111/6111A

Polyurethane/

Polyurea

6501/6110/6111/6840/6200C

6104S

                     Water-based
6272/6240/6190A/6070
wetting & dispersing agent for adhesives, furniture coating, Thermoset
application system
wetting & dispersing agent
furniture coating
Solvent type
two-component polyurethane
6500A/6402/6110/6173/6040/6502

6700/6161A/6104S

unsaturated polyester
6500A/6701/6402/6173/6040/6976

6104S

acid cure
6500A/6182/6040/6173/6530/6104S
UV curing system
6503/6111A/6840/6820/6502
Water-based
6072/6070/6240/6210/6272/6270A
Adhesives/

Sealants

solvent-based/solvent-free
Acrylate system
6500/6111/6110
two-component epoxy
6910A/6910/6110/6840/6040
Polyurethane
6402A/6501/6910A/6910/6110/6840

6040

Silane modified polymer
6040/6976/6830
Unsaturated Polyester/Vinyl Esters
6910/6976/6910A/6110/6161A
composite material
Thermoset
Acrylate
6910/6110/6910A
epoxy
6976/6910/6910A/6500
Polyurethane
6402A/6501/6910A/6910/6110/6840

6040

BMC/DMC/SMC
6910/6976/6910A/6110/6161A
Sample or Inquiry