Triphenyl Phosphate(TPP)
Description
Product Name: Triphenyl Phosphate(TPP)
Equivalent to: Phosflex TPP; Reofos TPP; Disflamoll TP
Cas No. : 115‐86‐6
Molecular Weight: 326.29
Molecular Formula: C18H15O4P
Chemical Structure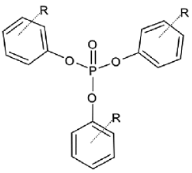 Application
TPP is a non‐halogen flame retardant plasticizer for phenolic resin‐based, copper-clad laminate, cellulose resin, vinyl resin and rubber, and some engineering plastics such as PPO.
Typical Properties
Appearance White flaky crystal
Content %99 min
Color (APHA) 80 max
Acid Value (mg KOH/g) 01 max
Water content (wt) %01 max
Density (25°C,g/cm3) 1200±0010
Free Phenol (ppm) 200 max
Phosphorus content (wt theory) %95
Melting point °C 48 ‐ 50
TGA
1% weight loss 198°C
5% weight loss 231°C
10% weight loss 247°C
These properties are typical but do not constitute a specification either in part or as a whole. Specification data is available on request from sales, customer service or customer technical service.
Packing
Transportation classification: No regulation for transportation.
Packing: 25kg/bag; 1mt/pallet; 20mt/20'FCL.
TDS / MSDS Download
TPP triaryl phosphates 115-86-6 tds baoxu chemical