Tetrabromobisphenol A(TBBA), Saytex CP‐2000
Description
Product Name: Tetrabromobisphenol A(TBBA)
Equivalent to: Albermarle Saytex CP‐2000; Chemtura BA‐59P; Dead Sea FR‐1524
Cas No. : 79‐94‐7
Molecular Weight: 543.7
Chemical Structure: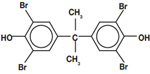 Application
TBBA is a reactive flame retardant used for epoxy resin, polycarbonate polyester, phenol resin, polyurethane etc. also use for polystyrene, ABS, unsaturated polyester.
Features
Highly pure flame retardant containing very stable aromatic bromine.
As a reactive flame retardant, it finds particular application as a reactive monomer in epoxy and polycarbonate polymers.
Very cost‐effective and once reacted, it is permanent and non‐migrating.
Typical Properties
Appearance white powder
Purity % 99 min
Bromine % 58 min
Melt point °C 181 min
Color APHA 20 max
Whiteness % 80 min
Volatile% 01 max
TGA
1% weight loss 210°C
5% weight loss 241°C
10% weight loss 257°C
50% weight loss 301°C
90% weight loss 351°C
These properties are typical but do not constitute a specification either in part or as a whole. Specification data is available on request from sales, customer service or customer technical service.
Packing
Transportation classification: No regulation for transportation.
Packing: 25kg/bag; 1mt/pallet; 20mt/20'FCL.
TDS / MSDS Download
TBBA Tetrabromobisphenol A 79-94-7 tds baoxu chemical