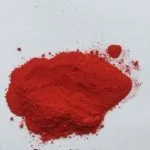 Pigment Red 254, Irgazin Red K 3840
Briefing
Pigment Red 254 is a semi-opaque mid shade red, an industry standard for all indoor.Recommended for polyolefin, comparable with Ciba Irgazin Red K 3840.
C.I.Pigment Red 254 shows high tinctorial strength, bleeding fastness, and high solvent resistance.
P.R.254 shows good hiding power, it is used primarily in automotive finishes wherever lead-free formulations are required.
For economical reasons, P.R.254 is frequently used in combination with the somewhat bluer but less weather fast opaque type of P.R.170.
Chemistry
Synonym name: C.I.Pigment Red 254, P.R.254, PR 254, C.I.56110, DPP red, Irgazin Red K 3840
CAS Number: 122390-98-1
EU Number: 402-400-4
Chemical Family: DPP
Chemical Structure
Application Data
Heat Resistance In HDPE
HDPE
Heat resistance
290
Fastness to migration
5/nt
Light Fastness FS/WR
8/8
Weather Fastness FS/WR
4/-
Warpage in HDPE
high
PVC
Fastness to migration
5/nt
Light Fastness FS/WR
8/7
Weather Fastness FS/WR
5/3
Application
Polyolefins (PP/HDPE/LDPE/LLDPE)
●
PVC
●
PUR
●
Engineerings
–
Styrenics
○
Elastomer&Rubeer
●
Fiber(PE/PP/PA)
–
Suitable, ○ Limited suitability, – Not suitable, nt-Not tested *Specific information available on request
TDS & MSDS
pigment red 254 d2030 msds baoxu chemical