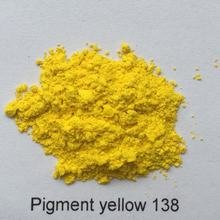 Pigment Yellow 138, BASF K0961HD
Pigment Yellow 138 is an industry standard pigment yellow with most green shade and with good hiding power, it is organic solvent resistance. Comparable with basf k0961 hd.
Its full shades exhibits excellent weather fastness but rapidly decrease in tints made by adding TiO2. 1/3 HDPE samples (1% TiO2 ) are formulated at approx. 0.2% pigment. Such systems are heat stable up to 290°C. Pigment Yellow 138 complies with FDA.
Chemistry
Synonym name: C.I.Pigment Yellow 138, P.Y.138, PY 138, C.I.56300,basf k0961hd
CAS Number: 30125-47-4
EU Number: 250-063-5
Chemical Family: Quinolones
Chemical Structure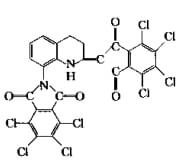 Application Data
HDPE
Heat resistance
250℃
Fastness to migration
5/nt
Light Fastness FS/WR
7/7
Weather Fastness FS/WR
3/ nt
Warpage in HDPE
low
PVC
Fastness to migration
4/nt
Light Fastness FS/WR
7/7
Weather Fastness FS/WR
4/4
Application
Polyolefins (PP/HDPE/LDPE/LLDPE)
●
PVC
●
PUR
●
Engineerings
○
Styrenics
○
Elastomer&Rubeer
●
Fiber(PE/PP/PA)
○
Suitable, ○ Limited suitability, – Not suitable, nt-Not tested *Specific information available on request
TDS & MSDS
pigment yellow 138 tds baoxu chemical