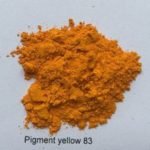 Pigment Yellow 83,  Benzidine Yellow HR
Pigment Yellow 83 is a transparent red shade yellow pigment with very high color strength. It's processing temperature less than 180℃. Comparable with Clariant HR02, HR, HR70.
P.Y.83 is redder than pigment yellow 13, The pigment concentration required for 1/3 SD HDPE coloration (1% TiO 2 ) is only 0.08%.
P.Y.83 shows good to very good resistance to most solvents, no migration in plasticized PVC even at low pigment levels. It does not bleed or bloom.
Chemistry
Synonym name: Benzidine Yellow HR, Fast Yellow HR, C.I.Pigment Yellow 83, P.Y.83, PY 83, C.I.21108
CAS Number: 5567-15-7
EU Number: 226-939-8
Chemical Family: Disazo
Chemical Structure



Application Data
Heat Resistance In HDPE(Dark-1% Tio2, Light-Without Tio2)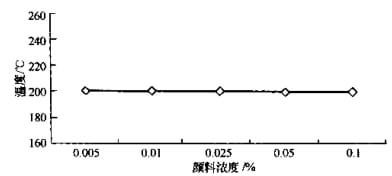 HDPE
Heat resistance
200℃
Fastness to migration
5/nt
Light Fastness FS/WR
7/5
Weather Fastness FS/WR
Nt
Warpage in HDPE
nt
PVC
Fastness to migration
5/nt
Light Fastness FS/WR
7/5
Weather Fastness FS/WR
nt
Application
Polyolefins (PP/HDPE/LDPE/LLDPE)
○
PVC
●
PUR
●
Engineerings
–
Styrenics
–
Elastomer&Rubeer
●
Fiber(PE/PP/PA)
–
●Suitable, ○ Limited suitability, – Not suitable, nt-Not tested *Specific information available on request
TDS & MSDS