Pigment Yellow 168, Yellow WGP
Briefing
Pigment yellow 168 is a semi-opaque green shade pigment, also an economical solution for mid-performance. Comparable With Ciba Yellow WGP.
P.Y.168 shows good migration resistance in plasticized PVC, but its tinctorial strength is relatively poor.
C.I.Pigment Yellow 168 is without harmful heavy metal and TCB, DCB, OD. used to replace chrome yellow.
Chemistry
Synonym name: Pigment Yellow WGP, C.I.Pigment Yellow 168, P.Y.168, PY 168, C.I.13960
CAS Number: 71832-85-4
EU Number: 276-057-2
Chemical Family: Mono azo
Chemical Structure


Heat Resistance In HDPE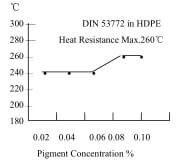 Application Data
HDPE
Heat resistance
220-240℃
Fastness to migration
5/nt
Light Fastness FS/WR
7/6
Weather Fastness FS/WR
Nt
Warpage in HDPE
no
PVC
Fastness to migration
4/nt
Light Fastness FS/WR
7/7
Weather Fastness FS/WR
nt
Application
Polyolefins (PP/HDPE/LDPE/LLDPE)
●
PVC
●
PUR
○
Engineerings
–
Styrenics
○
Elastomer&Rubeer
●
Fiber(PE/PP/PA)
–
Suitable, ○ Limited suitability, – Not suitable, nt-Not tested *Specific information available on request
TDS & MSDS
pigment yellow 168 WGP tds baoxu chemical