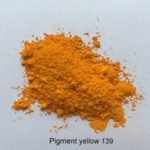 Pigment Yellow 139(H2R/3R)
Pigment Yellow 139 is a transparent red shade yellow pigment, recommended for films and PP fibers application. There are two-grade PY 139, which 2R is Comparable With BASF K1841, which 3R is Comparable With BASF 2140.
P.Y.139  is halogen-free and cost-effective, could mix together with Inorganic to replace chrome yellow, and replace pigment yellow 83 of benzidine structure.
P.Y.139 shows average tinctorial strength in plastics. Approximately 1% pigment is required to produce 1/3 SD samples in plasticized PVC containing 5% TiO2.
C.I.Pigment Yellow 139 could color becomes duller at higher temperatures than 250℃, which is a result of pigment decomposition.
P.Y.139 is bleed resistant in plasticized PVC.
Chemistry
Synonym name: yellow 2r, yellow 3r, C.I.Pigment Yellow 139, P.Y.139, PY 139, C.I.56298, yellow 2r, yellow 3r
CAS Number: 36888-99-0
EU Number: 253-256-2
Chemical Family: Isoindolinone
Chemical Structure

Application Data
Heat Resistance In HDPE(Dark-1% Tio2, Light-Without Tio2)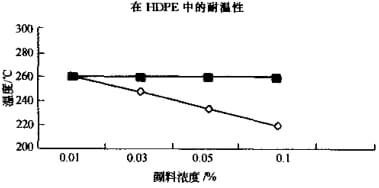 HDPE
Heat resistance
250
Fastness to migration
3/nt
Light Fastness FS/WR
7/7
Weather Fastness FS/WR
3/ nt
Warpage in HDPE
low
PVC
Fastness to migration
4/nt
Light Fastness FS/WR
7/7
Weather Fastness FS/WR
3/nt
Application
Polyolefins (PP/HDPE/LDPE/LLDPE)
○
PVC
●
PUR
●
Engineerings
–
Styrenics
○
Elastomer&Rubeer
○
Fiber(PE/PP/PA)
○
Suitable, ○ Limited suitability, – Not suitable, nt-Not tested *Specific information available on request
TDS & MSDS
pigment yellow 139 msds baoxu chemical