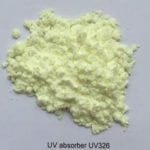 UV Tinuvin 326
Chemical Name:
2-(2′-Hydroxy-3′-tert-butyl-5′-methylphenyl)-5-chlorobenzortriazole
Formula
C17H18N3OCL
Molecular Weight
315.8
CAS#
c
synonym name:
UV-326, Ultraviolet Absorber 326, Tinuvin 326, Uvinul 3026
Specification:
Appearance
yellowish powder or flakes
Melting point
138-141℃
Flashpoint
238℃ DIN 51584
Flashpoint
297℃
Solubility(20℃)
Acetone
1
Chloroform
11
Ethanol
–
Ethylacetate
2
n-Hexane
1
Methanol
0.1
Methylene chloride
9
Toluene
–
Assay, effective components
Min.98.0%
Application

:   
>UV 326 is a uv absorber of the hydroxyphenyl benzotriazole class, especially suited for polyolefins and cold-cured polyesters.
>UV 326 exhibits strong absorbance in the 300-400nm region and minimal absorption in the visible region (> 400 nm) of the spectrum.
>The recommended levels for normal polyester resins range from 0.2% to 0.5%.
>UV 326 is approved in many countries for use in food contact applications.
Handling and Safety: 
>In accordance with good industrial practice, handle with care and avoid unnecessary personal contact. Avoid continuous or repetitive breathing of dust. Use only with adequate ventilation. Prevent contamination of the environment. Avoid dust formation and ignition sources. When stored, avoid the rain, moisture and sunshine.
>For additional handling and toxicological information, please consult us for Maternal Safety Date Sheet.
Package:
25kg per fiber drum, 9*3 layer 27drum per pallet,or according to customers' requirements.
TDS & MSDS
uv tinuvin 326 msds baoxu chemical