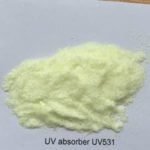 UV 531, Chimassorb 81
Chemical Name:
2-Hydroxy-4-n-octoxybenzophenone
Formula
C21H26O3
 
Molecular Weight
     326
CAS#
1843-05-6
Specification:
Appearance
slightly yellow powder
Melting point
47-49℃
boiling point
> 300°C
Solubility(20℃)
Water
< 0.01
MeoH
2
EtoH
2
Acetone
70
Ch2Cl2
67
Hexane
25
Application:
>Features: Low yellowing; Good absorbance in the UV-B region; improves failure of coatings resulting from exposure to sunlight including discoloration, cracking and loss of adhesion.
>531 is a UV absorber for plasticized and rigid PVC, polyester, PS, Acrylate resins, vinyl ester based coatings, PU based coatings, alkyed resin coatings, improves the weather resistance of the coating.
>Its performance in outdoor applications can be improved further by use in synergistic combination with a hindered amine light stabilizer (HALS) such as HALS 292.
>The amount of UV 531 required for optimum performance should be determined in trials covering a concentration range.
Handing and Safety: 
>FDA approves, under the 21CFR178.2010 for use in aqueous foods, dairy products (water-in-oil emulsions), bakery products without oil, and dry foods without oil at a maximum concentration of 0.5%.
>For additional handing and toxicological information, please consult us for Maternal Safety Date Sheet.
Package:
25kg per fiber drum, 9*3 layer 27drum per pallet,or according to customers' requirements.
TDS & MSDS
uv 531 chimassorb 81 msds baoxu chemical