Antioxidant, UV Absorber, Light Stabilizer, Pigments for Chemical Fiber
Today, more than half of all fibers consumed are synthetic, in which polyamide(PA), polyester(PET), acrylic and polyolefin makeup synthetic fiber production. Polyester alone making up more than 70%.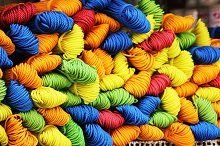 Nonwoven fiber covers a very wide variety of applications, including hygiene, air filtration, construction, and geotextiles.
Artificial turf is a surface of synthetic fibers made to look like natural grass which most often used in arenas for sports.
Carpet and upholstery is a large section of synthetic fibers which we could see in our daily life.
Automotive Fiber used as interior material often subject to high temperature and humidity conditions.
Click on hyperlink above to jump to an individual page to view antioxidant, uv absorber, light stabilizer, pigment for plastic material in specific section.