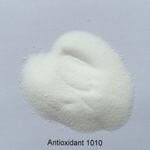 Irganox 1010, Antioxidant 1010, CAS 6683-19-8
Chemical Name:
Tetrakis [methylene-3-(3,5-di-tert-butyl-4-hydroxyphenyl-propionate)] methane
Formula
    C73H108O12
Molecular Weight
      1177.6
CAS#
    6683-19-8
Synonyms Name
 BASF Irganox 1010, Songnox 1010,  AO 1010
Specification:
Appearance
White or grains powder
Ash
Max.0.10%
Melting point
110.0-125.0℃
Volatilizing
Max.0.50%
Flash point
297℃
Solubility(20℃)
Acetone
47
Chloroform
71
Ethanol
1.5
Ethylacetate
47
n-Hexane
0.3
Methanol
0.9
Methylene chloride
63
Assay, effective components
Min.98.0%
Application

:   
>Features: 1010 is a high molecular weight hindered sterically phenolic antioxidant; very low volatility; food contact approval.
>It is used as an antioxidant and themo stabilizer for polypropylene, polyethylene, impact resistant polystyrene, poly-4-methyl-pentene.
>It also be used as a stabilizer for natural and synthetic rubber, polyvinyl chloride and copolymers of acrylonitrile with butadiene and styrene, polyacetals, alkyde resins, polyamides and polyesters.
>Dosage: Antioxidant 1010 concentration ranges between 0.1%~0.5%.
>The effectiveness of the blends of Antioxidant 1010 with Antioxidant 168 (see antioxidant B215 or B225 page) or with Antioxidant 168 and Antioxidant FS042 (cas 143925-92-2) is particularly noteworthy.
---
Handing and Safety: 
>FDA approved for use in indirect food contact applications.
>For additional handing and toxicological information, please consult us for Maternal Safety Date Sheet.
---
Package:
Packed with plastic bag in composite plastic woven sack, Net 25kg/bag,1000kg/pallet, 10pallet/20'FCL,or according to customers' requirements.
TDS & MSDS
antioxidant irganox 1010 msds baoxu chemical