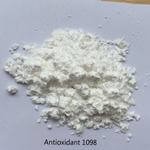 Antioxidant 1098, Irganox 1098, CAS 23128-74-7
Chemical Name:
N, N'-bis (3-(3,5-ditertbutyl-4-hydroxphenyl) propionyl)hexanediamine
Formula
C40H64O4N2
 
Molecular Weight
637
CAS#
23128-74-7
Synonyms
irganox 1098, Songnox 1098, AO 1098
 Specification:
Appearance
White crystallized powder
Ash
Max.0.10%
Melting point
156-161℃
Volatilizing
Max.0.50%
Solubility(20℃)
Acetone
2
Benzene
0.01
80 % Caprolactam + 20 % Water
3
Chloroform
6
Ethyl acetate
1
Hexane
0.01
Methanol
6
Water
0.01
Assay, effective components
Min.98.0%
 

Application

:   
>Features: 1098 is a hindered phenolic antioxidant; non-discoloring stabilizer for organic substrates; excellent compatibility with polyamides and other substrates and low volatility.
>It is especially suited for the stabilization of polyamide molded parts, fibers, and films, also recommended in other polymers such as polyacetals, polyesters, polyurethanes, adhesives, elastomers as well as other organic substrates.
>Suggested use concentrations for irganox 1098 range from 0.05% to 0.5%, depending on the substrate and the stability required.
>Often used with Antioxidant DLTDP for promoting antioxidant effect.
---
Handing and Safety: 
>Antioxidant 1098 exhibits a very low order of oral toxicity and does not present any abnormal problems in its handling or general use.
>For additional handing and toxicological information, please consult us for Maternal Safety Date Sheet.
---
Package:
Packed with plastic bag in composite plastic woven sack, Net 25kg/bag,1000kg/pallet, 10pallet/20'FCL,or according to customers' requirements.
TDS & MSDS
antioxidant irganox 1098 msds baoxu chemical