Polymer Processing Aids (PPA) 5922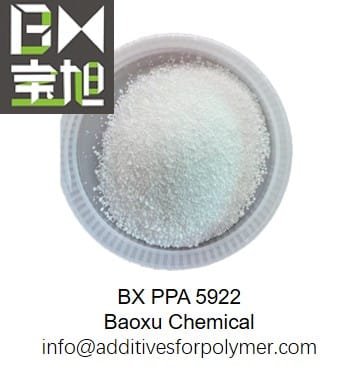 PPA Introduction
Polymer Processing Aids are free-flowing additives made of modified fluoro-elastomer which improve the processing of polyolefin resin at very low levels of usage. BX Polymer Processing Aids are coated at the inside of the die wall and decrease the friction between melted resin and the die wall.
PPA compare table
Introduction
BX PPA 5922 is a free-flow, 20mesh white granular fluoropolymer-based process aid. At a very low-level addition(100-800ppm), it can improve PE processing, and does not change the original physical property of the plastics as well as sealing, adhesion, and printing. It can be used for mLLDPE, LLDPE, HDPE, LDPE, EVA, and other thermoplastic resins. With advanced technology, PPA 5922 can be effective at 50-70% dosage as traditional PPA products. This product also has faster conditioning and stronger interaction resistance.
Application
Blow film, Cast film, blow molding, and all other polyolefin extrusion processes.
PPA 5922 Physical properties
| | | | | |
| --- | --- | --- | --- | --- |
| PPA item | Product Form | Bulk Density | Particle size/mesh | Volatile%(wt) |
| BX PPA 5922 | Free-flowing Granular | 0.72 | <20 | <0.12 |
Processing Guide:
PPA dispersion in the resin is critical to the performance. The recommended process is to add PPA via 2% to 3% masterbatch through twin-screw
extruder. The conditioning time is 20-60mins according to the equipment, resin, and shear rate.
Benefits
– Improve film surface quality by eliminating melt fracture.
– Shorten downtime by reducing die build-up.
– Increase the ratio of LLDPE in LLDPE/LDPE blends for lower cost, higher quality
– Increase output and energy saving
Shelf life:
2 years, below 30℃, avoid extensive humidity and light
Package:
Net 20kg, per carton
TDS/ MSDS
Sample and Inquiry
Please contact our online sales or mail at [email protected] for a sample and general inquiries.