Optical Brightener Telalux KSB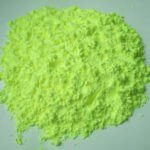 Chemical Name:
1,2di(methyl-benziazol)ethlene
Formula
C26H18N2O2
 
MW
 390
CAS#
7128-54-5
Synonym Name:
Fluorescent Brightener 369 (FBA 369 ), C.I.369, Telalux KSB, Fluorescent Brightener KSB
Specification:
Appearance: slight yellow crystallized powder
Melting Point:237°C~239°C
Purity:≥99%
Features:
Optical Brightener KSB is mainly used in whitening synthetic fiber and plastic products, especially good at whitening of film,EVA and PE form products.
Handing and Safety: 
For additional handing and toxicological information, please consult us for Maternal Safety Date Sheet.
Package:
Corrugated paper box with a liner of plastic bag.The net weight of each box is 10 kg. Or according to customers' requirements.
TDS & MSDS
optical brightener Telalux KSB tds baoxu chemical