Pigment Yellow 81, Benzidine Yellow 10G
Pigment Yellow 81 has a very opaque green shade with all-round properties, application is Elastomer&Rubber, Fiber, Polyolefins, PUR, PVC. Comparable with Clariant Yellow H10G.
P.Y.81 is the best choice for toning the apple green color.
P.Y.81 has low tint strength P.Y.81 is very resistant to bleeding. At low pigment concentrations in plasticized PVC, the pigment may bloom, depending on the processing conditions and formulation of the polymer.
P.Y.81 hardly affects the shrinkage of preformed HDPE.
Chemistry
Synonym name: Benzidine Yellow 10G, C.I.Pigment Yellow 81, P.Y.81, PY 81, C.I.21127
CAS Number: 22094-93-5
EU Number: 224-776-0
Chemical Family: Disazo
Chemical Structure: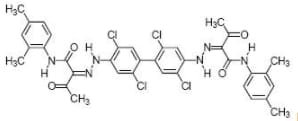 Application Data
Heat Resistance In HDPE(Dark-1% Tio2, Light-Without Tio2)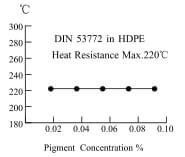 HDPE
Heat resistance
200-220℃
Fastness to migration
nt
Light Fastness FS/WR
6/6
Weather Fastness FS/WR
nt
Warpage in HDPE
low
PVC
Fastness to migration
nt
Light Fastness FS/WR
6/6
Weather Fastness FS/WR
Nt
Application
Polyolefins (PP/HDPE/LDPE/LLDPE)
○
PVC
●
PUR
●
Engineerings
–
Styrenics
–
Elastomer&Rubeer
●
Fiber(PE/PP/PA)
–
●Suitable, ○ Limited suitability, – Not suitable, nt-Not tested *Specific information available on request
TDS & MSDS
pigment yellow 81 10g tds baoxu chemical