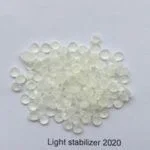 Light Stabilizer Chimasorb 2020 
reactionmaterial of 1,6 – hexanediamine, N,N'-bis (2,2,6,6-tetramethyl-4-piperidine-yl),2,4,6-trichloro-1, 3,5-triazine,N-butyl-1-butylamine, and N-butyl-2 ,2,6,6- tetramethyl-4-piperidineamine
Formula
(C33H60N8O)n
 
Molecular Weight
2600-3400
CAS#
192268-64-7
Synonym: 
chimasorb 2020, light stabilizer 2020

Specification:
Appearance
slightly yellow granules
Melting point
120-150. C
Flash point
Not tested
Solubility(20℃)
Water
< 0.0001
n-Hexane
> 50
Tetrahydrofurane
> 15
Dichloromethane
> 15
Ethanol/Water 95/5
> 2.5
n-Octanol
> 1.0
Isopropanol
> 0.2
Application:
>Chimassorb 2020 Features: Block oligomeric hindered amine light stabilizer, excellent compatibility, high extraction resistance.
>Highly effective light stabilizer for polyolefins (PP, PE), olefin copolymers such as EVA as well as blends of polypropylene with elastomers.
>It imparts unique long-term thermal protection to PP-filled articles and carbon black-filled systems. HALS 2020 is highly effective as a long-term thermal stabilizer in thin and thick articles and shows high extraction resistance.
> Its concentrations range between 0.1 % and 1.5 %, depending on the substrate, processing conditions and application.
---
Handling and Safety: 
>HALS 2020 requires no special safety measures, provided the usual precautions for handling chemicals are observed.
>For additional handling and toxicological information, please consult us for Maternal Safety Date Sheet.
Package:
25kg per fiber drum, 9*3 layer 27drum per pallet, or according to customers' requirements.
TDS & MSDS
light stabilizer uv 2020 msds sds baoxu chemical