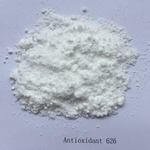 Antioxidant Ultranox 626
Chemical Name:
Bis(2.4-di-t-butylphenyl) Pentaerythritol Diphosphite
Formula
C33H50O6P2
 
Molecular Weight
604
CAS#
26741-53-7
Synonym name:
ETHAPHO 326, Irgafos 126, Ultranox 626
Specification:
Appearance
White powder or granule
Ash
Max.0.10%
Melting point
170.0-180.0℃
Solubility(20℃)
Water
<0.1
MeOH
2.1
EtoH
U
Acetone
11
Ch2Cl2
34
Hexane
7.3
Application

:   
>Features: high-performance solid organo-phosphite antioxidant.
>Solid phosphite antioxidant that provides color stability, reduces polymer degradation, and improves gas fading per­formance in many resins, better than antioxidant 168.
> antioxidant 626 may be used in polyethylene, polypropylene, polystyrene, polyesters, elastomers, PVC, and thermoplastics.
Handling and Safety: 
>Antioxidant 626 (ultranox 626) is Approved by the FDA for food contact applications under 21CFRl78.2010 covering antioxidants and/or stabilizers for poly­mers.
>For additional handling and toxicological information, please consult us for Maternal Safety Date Sheet.
Package:
Packed with a plastic bag in composite plastic woven sack, Net 25kg/bag,1000kg/pallet, 10pallet/20'FCL,or according to customers' requirements.
TDS & MSDS
antioxidant ultranox 626 tds baoxu chemical