Ammonium polyphosphate (APP)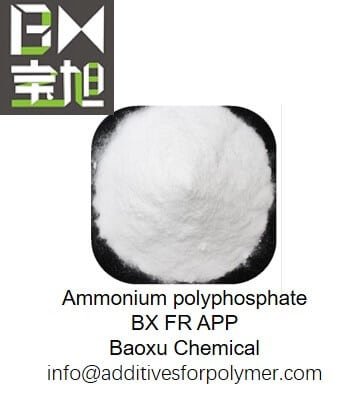 Product Name: Ammonium polyphosphate (APP)
Equivalent Name: Clariant Exolit 422; Budenheim Cros 484
Cas No. : 68333‐79‐9
Chemical Structure:

Application
APP is an ammonium polyphosphate flame retardant mainly used in Plastic(PP, PE, PA, PVC, PBT), PU, Rubber, Paint, coating, laminates and reinforced materials.
Features
APP flame retardant differs from most other commercial products in the following ways:‐ greatly reduced solubility in water.‐ lower viscosity in aqueous suspensions.‐ lower viscosity in PU polyol suspensions.‐ very low acid number.
Typical Properties
Appearance white powder
P %31 ‐ 32
N %14 min
Degree of polymerization 1500 min
Density (g/cm3) 19
Decomposition temperature °C 275 min
Solubility in water g(25°C g/100ml H2O)02
Viscosity mpas (25°C in 10%suspension) 100 max
PH 55 ‐ 75
Average particle size (um)15 max
These properties are typical but do not constitute a specification either in part or as a whole. Specification data is available on request from sales, customer service or customer technical service.
Packing
Transportation classification: No regulated for transportation.
Packing: 25kg/bag; 1mt/pallet; 20mt/20'FCL.
TDS / MSDS Download
flame retardant APP Ammonium polyphosphate 68333-79-9 tds baxou chemical
flame retardant APP Ammonium polyphosphate 68333-79-9 msds baxou chemical