TCPP Tris(2‐Chloropropyl) Phosphate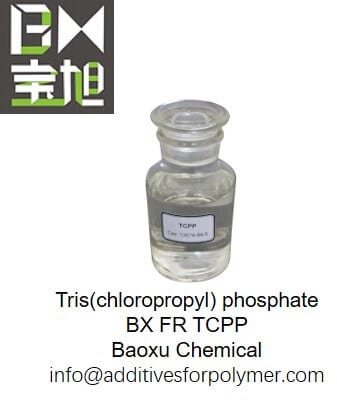 Description
Product Name : Tris(2‐Chloropropyl) Phosphate(TCPP)
Equivalent Name: Clariant TCPP; Bayer Levagard PP; Aceto TCPP
Cas No. : 13674‐84‐5
Molecular Weight: 327.57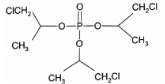 Application
TCPP Flame Retardant is used in the production of acetate fiber, polyvinyl‐chloride, PU foams, EVA, and phenolics materials. Except flame retarding, it can also promote moisture resisting, low-temperature resisting, the capability of antistatic, and the softness of the materials.
Features
Low-cost chlorine and phosphorous-based flame retardant.
Best hydrolysis stability among currently available phosphates flame retardant.
Does not dissolve in water, dissolves in most organic solvents, and has good compatibility with resins.
Typical Properties
AppearancePale yellow transparent Liquid
Color (APHA) 50 max
Acid Value (mg KOH/g) 01max
Water content %01 max
Viscosity (25°C, mPa∙s) 60 ‐ 70
Specific gravity(20°C ) 1285 – 1295
P content %90 – 98
Cl content %32 – 328
TGA
1% weight loss 110°C
5% weight loss 172°C
10% weight loss 208°C
These properties are typical but do not constitute a specification either in part or as a whole. Specification data is available on request from sales, customer service or customer technical service.
Packing
Transportation classification: No regulation for transportation.
a). In Drum of 250kg net weight, 4 drums/pallet. wrap &strap. 20mt/20'fcl.
b).in IBC of 1.25mt net weight. 20mt/20'fcl.
c). in Isotank of 25mt net weight.
TDS / MSDS Download
flame retardant TCPP Tris(chloropropyl) phosphate 13674-84-5 tds baoxu chemical
flame retardant TCPP Tris(chloropropyl) phosphate 13674-84-5 msds baoxu chemical