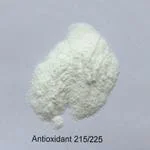 Antioxidant B215, Irganox B 215
 

Chemical Name:
Formula
6683-19-8 : 31570-04-4=1:2

Antioxidant 1010:Antioxidant 168=1:2
Specification:
Appearance
White powder
Volatilizing
Max.0.50%
Assay,effective components
Min.98.0%
Transmittance
425nm
Min.95.0%
500nm
Min.98.0%
Application

:   
>Features: Maintenance of original melt flow; Low color formation; Improvement of long-term thermal stability.
>The compound antioxidant B215, B225 and B900 are all low volatile grade antioxidant and have a long effectiveness for processing of polyalphaolefin, and widely used for macro-molecule material such as polyethylene, polyamide, polyester, ABS resin etc.
> Irganox B215 can be used in combination with light stabilizers.
Handing and Safety: 
>Irganox B215 requires no special safety measures provided the usual precautions for handling chemicals are observed. Avoid dust formation and ignition sources.
>For additional handing and toxicological information, please consult us for Maternal Safety Date Sheet
---
Package:
Packed with plastic bag in composite plastic woven sack, Net 25kg/bag,1000kg/pallet, 10pallet/20'FCL,or according to customers' requirements.
TDS & MSDS
antioxidant irganox b215 tds baoxu chemical